I'm returning from Interop in Vegas, fresh from a talk about how to climb the career ladder, "So You Want To Be A CIO"; I thought I'd share a point that resonated with the audience: everybody wants to do cool stuff at work, but: "nobody trusts you to do cool things if you don't have your act together."
If you want to do cool stuff, even at a dorky job, here are my suggestions for the top five things you must do.
1. Take Care of The Basics.
Two things: first, nobody gives additional opportunity to someone who clearly isn't getting the basics of the job done. In the case of a chief information officer, that means ensuring great technology uptime, great customer service, and a high level of cyber security, among other things. But whatever your job is, there are basics. Figure out what they are and take care of them so you're a standout as someone who's got it together enough to qualify for more opportunity.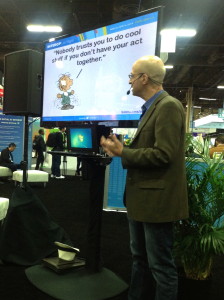 Second, if you don't have your basics taken care of, do you really think you're going to be left alone enough to figure out what your next cool thing at work is going to be? Nope.
2. Pick Yourself.
One of my favorite Seth Godin blog entries of all time is about the tyranny of being picked, of allowing gatekeepers to dictate your destiny. Godin says, "Once you reject that impulse and realize that no one is going to select you–that Prince Charming has chosen another house–then you can actually get to work."
Bosses are gatekeepers of a sort, and they are often too busy with their own work issues to think about the next cool thing for you to do. Or, their version of cool might be your version of hell. So, make your own opportunity. Think of the next cool thing for the company and do it. Quit waiting to be picked to do something cool. Organize a posse of work comrades and do something cool together, or just go do it yourself.
3. Quit Being Scared.
Nobody does anything awesome at work unless you (a) step outside of your comfort zone, and (b) take some risks so that you can reap the rewards.
It's all very well to talk about becoming braver, but actually, besides "read a book for some advice" (and I do recommend my colleague Bill Treasurer's book, Courage Goes To Work,, what are you supposed to do?
Well, for starters, figure out what you're afraid of and mitigate those risks! If you were worried about falling from a trapeze, you'd use a net during practice. If you're worried about the financial risks of losing your job, how about saving a cash cushion so that you feel better about taking the risks associated with doing something epic?
How about building your professional network now so that if and when you get thrown off of the merry-go-round, you have existing and meaningful relationships to call upon? And finally, back to point #1, create credibility at work for yourself by doing a fantastic job so that when and if you mess up because you took a risk, it will be viewed in the context of "a superstar made a mistake" instead of "Mediocre Mike screwed up again."
4. Make Friends.
People have masks at work. They don't share their real selves. It's part of being scared. It's part of thinking that you need to be someone that you're not in order to get the job done.
But generally, nothing truly awesome happens at workplaces without some degree of collaboration. And why do people collaborate on non-boring things, something that is risky or aspirational, something that might not work? Generally because they like the people that they're working with.
So start sharing, be genuine, and make some meaningful relationships both inside and outside of your work group. Get out of the cave. I'm not saying that you need to, er, over-share. And I'm not saying that you need to have relationships that get in the way of work or mutual accountability. And I'm not saying that relationship building at work isn't hard. It is. It is hard to make time for the attention and nuance that building a relationship requires.
But without genuinely knowing someone, you cannot genuinely trust. And without genuine trust, nothing, repeat nothing cool ever happens at work.
5. Start Being Honest.
Appeasement is a terrible way to get great work done, but it's a great way to be mediocre.
Quit lying, and stop saying that a work product is good when it's not. Someone will eventually realize that you lied to them and that will break your trust and harm your credibility with them.
I'm not saying that you should say the equivalent of, "yes, that dress does make you look fat." But most women would prefer an honest – not stupid – answer to that question.
I actually got into a conversation about that after my session, and the woman I was chatting with said oh my god, yes, of course I want to know if something is unflattering before I go out in public! She just didn't want to be insulted or humiliated.
This is true at work, too. Good, trusted coworkers want to know when things aren't good so that they can fix things. But they also don't want to be insulted or humiliated in the process. Cool work begins with a true assessment of the current state. You can't get there without honesty that also honors relationships.