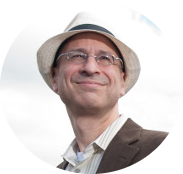 Hi. I'm Jonathan Feldman. Nice to meet you.
First and foremost and always, I'm a helper.  I'm a CIO who tries hard to make IT serve real people and solve real problems.  I'm a writer for InformationWeek who tries hard to give practical and actionable advice.  I'm a speaker who treats you like you're smart, but also offers a map for journeys that I've taken.  I'm a runner who runs his own race.  I've been a Startup Weekend community organizer. I'm a curator for StartupDigest. I'm super interested in open data and civic technology, and helped write a book about that. And, of course, I'm a friend and colleague, husband and dad.
I've spent 25 years helping people get the most out of business tech and innovation, and somewhere along the line I became an accidental expert about workplace misery and how to fix it.
I love to run, even though it is very, very hard.  I look at running as a metaphor to help me approach things in work life that are very, very hard.
I work with crazy stuff like cloud computing, project management, and tough employee issues every day.  I've worked for gigantic, midsized, and small organizations both as a direct employee and as a consultant.  I tend to bring startup ideas to large organizations (like the one that I work for now).
I love what I do, and am grateful to those who have helped me do it.  I look at writing, interacting on social media, and public speaking as a way to pay it forward.
In addition to this blog and my work with InformationWeek, I've written a couple of books. Most recently, I co-authored a book about government and open data innovation with Code for America, which was published both traditionally as well as electronically.
Get in touch with me at jf@feldman.org, via Twitter, or LinkedIn (please give me some context when you connect). Thanks!