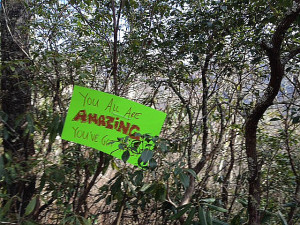 What turns something from a death slog-fest into a life-affirming event? As it turns out, an over-the-top amount of encouragement. In any profession that causes as well as alleviates work pain, we'd do well to remember that.
I ran the Black Mountain Marathon a few weeks ago. Beautiful conditions at the start line; it was about 36° F at sunrise and the day was sunny. No trouble for the first 10 miles, feeling good.  Then, of course, the suffer-fest began: towards the top, because of previous snow and above-freezing temperatures, it got to the point where everyone was was basically running in ice water AKA snow-melt! The course was slippery because of the melting ice, too, and I almost fell several times.  The course was an up-and-down up from Black Mountain to Mt. Mitchell, and I went up too fast (I was trying to prove something about the race cutoff, but that's another story), so I started hurting halfway through the race. It wasn't my most painful race, but neither was it the easiest.
Yet: it was one of the greatest races ever.
Through it all, someone had thought to put the encouraging signs below up throughout the 26.2 mile race course. They made me laugh, they encouraged me, and even though I had no idea whether the race organizers had everything to do with the signs, it made me love every single one of those race organizers without reservation. I posted later on Facebook, "I love you like a brother or sister, sign-making person!"
Stupid, right? I mean, they didn't do it specifically for me, they just did it. And maybe it wasn't even someone who was affiliated with the race. Still made it one of the greatest races ever. Emotion trumps fact every time.
Our customers experience pain in many ways. Sometimes they bring it upon themselves. Sometimes we unintentionally cause it, like when we ask customers to sit through a "coyote meeting" (you know, the ones where you'd rather gnaw your own arm off than have to continue sitting through) to get important information like security training. The list surely goes on.
Maybe we need to encourage customers, clients, and coworkers more often, whether or not we're the cause of the pain. Putting cynicism about corporate Pollyanna policies aside, maybe we even need to over-encourage.
What's the difference between helpful over-encouragement and stupid platitudes? How about sincerity? How about displaying an understanding of the difficulty of the day? A little effort to develop true understanding goes a long way.
With the right kind of over-encouragement, I think we might make work go from less of a sufferfest to more of a meaningful part of life.
It is powerful.  And you can do it.  You all are amazing! You've got this!